Smile makeover / smile design in South Port  
South Port Dentists Dental Care offers a Smile Makeover  service for the South Port  area.
We use the latest cosmetic dentistry techniques and modern materials to design your smile and build your confidence.
What would you like to change?
Missing teeth
Gaps between your teeth
Protruding teeth
Discoloured teeth
Teeth that are too long or short
Chipped or broken teeth
Rotated teeth
Not showing any teeth when you smile
Smile that looks "Gummy"
The list above includes a number of things
that commonly concern people about their smile and their teeth.
Before you come to see us for your first smile design consultation at South Port Dentists  it is helpful if you consider what you would like to change with respect to your teeth and your smile.
What sort of smile would you like us to create for you... natural smile or film star look?
We want you to be really happy with your teeth and your smile by the time you have finished your treatment.
we have created many beautiful smiles over the years both building peoples self esteem and self confidence.
At South Port Dentists we are accustomed to transforming your smile using the latest technology in  dentistry today.
You will meet either Leanne Malisano for your first consultation. Whichever one of the three of them you see they will listen very carefully to your concerns regarding your teeth and smile.
You will see examples of some of the many cases that they have successfully completed at South Port Dentists . Once your assessment has been completed we will discuss thoroughly the different treatment options available; exactly what is involved in the treatments as well as the advantages and disadvantages of each option. The next stage would be to provide you with a written treatment plan detailing both our findings and the treatment options available to you. The treatment plan will also include the timing, costing and sequence of treatments.
Our dental laboratory will produce wax up templates of what we envisage the final result to look like on models for you to have a look at before we make any changes to your teeth in order that you can express your views.
Your teeth will then be precisely prepared and shaped to fit in with the agreed template, and your provisional temporary teeth will be fitted immediately. This "trial smile" will allow you to assess as to whether you would like any changes, and ask the opinion of your family and friends.
When you are completely happy with the "trial smile" the dental laboratory completes the fabrication of the highest quality porcelain veneers or crowns. These are handcrafted by our highly experienced technicians and will have the shape, detail and texture of natural teeth to your desired colour and characteristics
So please call us on 07 5532 1933
Wedding Day Smile Makeovers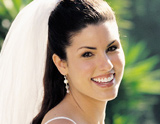 Be certain to contact South Port Dentists  before your Wedding Day for teeth whitening or a smile makeover.
When you are planning your wedding there will be other details that will demand your attention besides your dress, flowers and shoes.
The one thing that everyone will notice on your special day is YOUR SMILE!!!!!
South Port Dentists  help prepare couples for their wedding day. We know it is important that the wedding party are ready to really smile on the day of days.
We have treated the mums, dads and other members of the wedding party besides the bride and groom.
Some people are embarrassed by their smile and either don't smile or cover their mouth with their hand. You don't need to feel like this. Nowadays cosmetic dentistry can restore that smile as well as your self confidence.
Treatments such as tooth whitening, veneers and smile design treatments are all available.
We want you to look your best on your wedding day...
So please call us on 07 5532 1933