Invisalign Clear Braces
Invisible Braces
Are you looking for a straighter and more self-assured smile unaccompanied by the wires and brackets of traditional braces? Invisalign clear braces offer an alternate straightening solution using a series of comfortable, clear, and removable aligners. As an authorized  Invisalign provider, we offer you this effective alignment option along with experiencing the total comfort in our offices. Over half a million smiles reveal the success of revolutionary Invisalign invisible braces treatment.
Invisalign Fits Your Lifestyle
Discrete
No need to worry about Invisalign invisible braces drawing attention. The transparency of the aligners makes their presence nearly invisible to those around you.
Versatile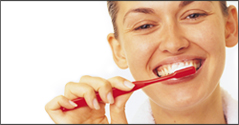 Invisalign clear braces adapt to your busy lifestyle and allow for continued oral hygiene. You can remove your aligners when eating, drinking, flossing, brushing, or periodically for a special event.
Comfortable
Smooth edges ensure that Invisalign clear braces won't snag the sides of your mouth or gums. You can wear your aligners without the hassle of sores or irritation.
Efficient
We use impressions of your mouth to map out the progression of your tooth movements, as well as to design custom Invisalign aligners that shift your teeth to calculated locations. You can see the projected results beforehand, and the process takes less time than traditional braces. An average alignment process using Invisalign invisible braces takes under a year, depending on the case.
Invisalign: Improve your Teeth, Improve your Health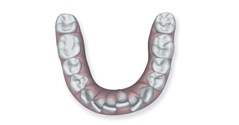 Used in connection with cosmetic dentistry, Invisalign clear braces can prepare your teeth for additional treatments as well as resolve several common issues to enhance oral health, such as:
Overly crowded teeth:
Due to a lack of space, the teeth crowd each other out, twisting the teeth.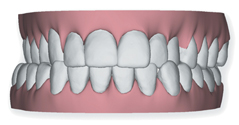 Widely spaced teeth: Abnormal jaw growth or missing teeth create unsightly gaps and spaces between teeth.
Crossbite:
Misalignment of upper and lower jaws cause one or more upper teeth to bite inside the lower teeth.
Overbite: Genetics, bad oral hygiene, or bone overgrowth cause the upper front teeth to extend far over the lower teeth.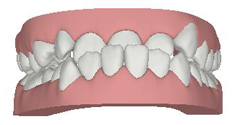 Underbite:
The lower teeth extend past the upper front teeth due to missing upper teeth, the undergrowth of the upper jaw, or the overgrowth of the lower jaw.
Without treatment such as invisible braces, these problems commonly lead to gum disease, tooth wear, bone loss, dental decay, the prevention of normal tooth function, and painful jaw and joint issues.
Invisible Braces Step-by-Step
Assessment - By contacting our  cosmetic dentistry office, you can schedule an initial consultation, where we will assess your concerns, goals, and situation to determine together whether Invisalign clear braces are best suited for you. At this visit we will take digital pictures and x-rays of your mouth to help us plan the step-by-step progression towards your desired new smile.


Planning Process- Using the latest technology and the images taken at your consultation, we calculate the gradual shift of your teeth in stages. We then custom design a series of clear aligners, each fashioned to shift your teeth to a computed location in the next stage of the plan.


Invisalign Treatment- At each visit you will receive a new set of aligners that you will wear for approximately two weeks. The more regularly you wear your aligners, the faster you will see your smile transform. While every patient's situation is unique, most people generally need 20-30 sets of aligners.
Treat Yourself to Invisalign
By scheduling an initial consultation at our  cosmetic dentistry office, we can determine if Invisalign clear braces are the best solution for enhancing your smile.