Dental Crowns
Strengthening your teeth and improving their appearance
Dental crowns protect damaged, cracked and worn teeth. A dental crown is a tooth shaped cap constructed from porcelain that is bonded over a tooth covering it to improve its appearance and to restore its shape, size and strength.
The benefits of dental crowns
Porcelain crowns or dental crowns protect the entire surface from any further decay, damage or erosion. They also improve the aesthetics of your teeth. When teeth need strenghtening dental crowns may be the treatment for you.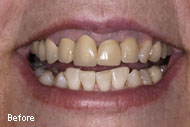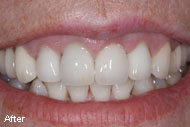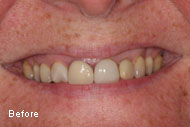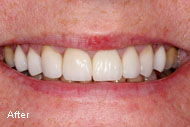 When a dental crown may be needed?
After root canal treatment or dental implant a dental crown maybe fitted. The dental crown is often needed to protect the tooth or teeth after these treatments.
Significant decay has damaged the tooth and not enough tooth is left. Dental crowns are best at protectiing teeth.
If a tooth is badly damaged the a dental crown is a great choice to restore the tooth.
Like above if the tooth is badly worn from erosion or grinding then a dental crown may be the only option to preserve and restore the existing tooth..
For cosmetic reasons porcelain crowns can enhance the appearance of you teeth.
What are dental crowns made from?
Dental crowns are usually made of:
Metal alloy bonded to porcelain. Sometimes after a period of time dental crowns made from metal and porcelain / ceramic may cause dark lines in the gums. This may appear unattractive.
Gold crowns. Not often used today but are very long lasting and good where there is very little room in the bite on back teeth.
Porcelain crowns. For a natural appearance porcelain crowns or ceramic crowns give the best results.
At South Port Dentists our cosmetic dentists only use the best dental crowns.
How long do dental crowns last?
Dental crowns require the same level of care and attention as your natural teeth. Providing you maintain a good oral hygiene program, good diet and attend regular dental check-ups, a high quality dental crown can last 10-15 years or longer.
What should I do next if I am interested in having a dental crown?
South Port Dentists is a leading clinic situated in South Port that specialises in dental crowns and porcelain crowns. If you are considering having dental crowns, then South Port Dentists can be contacted on 07 5532 1933  or by email at info@malisano.com.au
If you would like any further information on porcelain veneers please contact us on 07 5532 1933 or email info@malisano.com.au